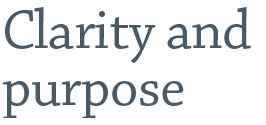 Working with you
Our comprehensive process seeks to engage our clients in a solid working relationship based on honesty, clarity and open discussion.
Here we outline our advice process. However, this is just the foundation for our ongoing support and a long lasting relationship through life.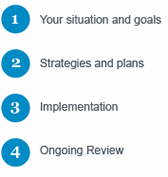 Step 1 – Your situation and your goals
During this meeting we seek to gain an understanding of your needs and aspirations as well as introduce our business and our philosophies in relation to financial management. This meeting allows you to determine if Provenance provides the right service and culture for your ongoing financial needs.
We will then collect information regarding your current situation so we get a clear understanding of your current financial position and financial goals. Click here for what to bring to your first appointment.
Step 2 – Strategies and plans for your financial future
We will analyse your current position and consider strategies to develop your personalised financial plan. We will present our recommendations to you through a Statement of Advice (SoA) document which outlines our recommendations to you, why they are appropriate and the costs associated with implementing the advice with Provenance.
Step 3 – Implementation
The implementation of your strategy will be undertaken in liaison with your financial planner and client service team. We will assist with any paperwork and manage the process on your behalf. It's all about making your financial life easier. We'll oversee the process, keep you informed and work diligently to meet set timelines.
Step 4 – Ongoing Review
As your financial situation, goals and objectives change over time, it's important that your plan remains relevant. Our ongoing support ensures that your plan is regularly reviewed and remains appropriate for your changing needs or new legislative landscapes.
Our review schedule is complemented by timely information and financial planning resources.